About a week ago now, I managed to get my hands on enough money to buy a PS Vita and I've got too say that I haven't regretted the buy at all.
After receiving the parcel it came in and unpacking it, I turned on the Vita and went through the usual motions of imputting usernames, putting the mac address into the router and stuff like that, I could start to properly have a look at the device and see what it could do. I've never really reviewed a console so I don't really know what to talk about, but bear with me.
Specs + Starting Apps
The PlayStation Vita has a 5 inch touch screen, 2 joysticks, and Bluetooth. It's available in 2 versions, one version only has Wi-Fi and the other one has Wi-Fi and 3G. The Vita runs on an ARM Cortex-A9 with 4 core-processers and a SGX543MP4+ graphics card.
The first thing you get pretty much introduced to is Welcome Park; this is basically an app that allows you to become familiar with the way that the Vita works. It consists of a set of mini games that teach you all about the new features in the Vita, like the 2 cameras, the touch screen on the front and the back and the microphone.
Here's a list of the standard features that are on the Vita when you buy it:
Welcome Park: which I have just explained earlier.
Party: this is a feature which you can use to link up with friends who also have a Vita.
Near: this allows you to link up with other people who have a Vita and see what they're up too, what trophies they've won, etc.
Friends: this is a way to message people who have a Vita or a PS3.
Ps Store: this is an app that allows you to buy and download games if you don't want to buy the game cards from game shops.
Maps: same as Google Maps pretty much.
Then you've got apps to be able to listen to music, a picture gallery, watch films, content manager, remote play and web browser. These are the apps that you start out with. I went onto the PS store next and had a look around at the apps that you could download for free and I was surprised to find that there wasn't only a Twitter app, but also a Skype app. The downside of the Skype app is that you're not able to text chat on it. The other free apps that are on it are basically demo's of full games, so if you want to have a full game, you're going to have to pay for it unfortunately.
Handling of the Vita
Next I suppose is a bit about the Vita handles, we'll let me tell you, it handles like a star. Holding the Vita is extremely comfortable as you hand just wraps around the curved edges of it and nothing stabs you in the hand like you have with the Nintendo DS. Seeing as the Vita feels very comfortable when you hold it, you can hold it for extended periods of time without getting any cramps in your hands or fingers. On either side of the console there's a mini joystick that makes the console handle a lot better when you're playing games. It feels like you're holding an Xbox controller instead of a portable games console, I know I should've said PS3 controller, but seeing as I don't own a PS3, I can't make that comparison at all.
The cons
I have to admit that for me, there aren't really that much cons to the Vita  except maybe the price of it but that's to be expected seeing as the Vita was released in February of this year. But there is one thing that I do have to admit is annoying that you have to buy a special memory card to be able to store save games. Normally I'd say use a mini SD card from maybe a phone or another device that requires them, but this isn't the case. This memory card has been developed by Sony and is fairly pricey, and as of yet, I haven't been able to find a mock-up brand for a similar memory card. Another con for me is that you're not able to watch YouTube clips on the web browser of the Vita, but Sony has announced that they are working on developing a YouTube app.
Gameplay on the Vita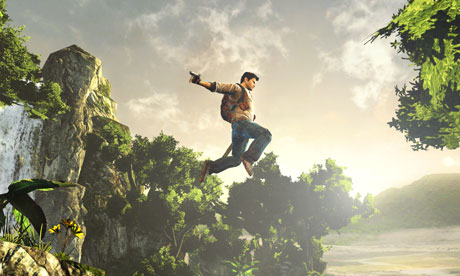 About the gameplay on the Vita I can be brief. I got my Vita as part of a deal which would also get me 1 game without having to pay the full price for the game. The game I got with the deal was Uncharted: Golden Abyss. Now I'm not going to go into detail about this game seeing as I'll probably do a review of it at some point in the future so I'm going to focus on the graphics during the game for now. Let me tell you, playing a game on the PS Vita feels like you're playing a game on the PS3 or the Xbox 360. The graphics are simply perfect and the best thing is that the graphics aren't toned down like you would find in a game for the Nintendo DS for instance. You simply don't get the feeling that you're playing the game on a handheld console and for me that is a huge plus.
Prices
Now let's talk price. With this I mean that I'm going to tell you how much quid you're going to need to spend on the PS Vita if you want to buy one. I will list the prices for everything at the bottom, but for now, I'm going to focus on the version that I bought.
PS Vita (Wi-Fi only): £199,-
Uncharted: Golden Abyss: £31.99
PS Vita Memory card 4 GB: £12.99
So all in all you would be able to have a PS Vita including game and Memory card for 243.98 Pounds.
Here's a list of the other prices though in case you're interested.
PS Vita (Wi-Fi + 3G): £259,-
PS Vita Memory card 8 GB: £23.94
PS Vita Memory card 16 GB: £33.29
PS Vita Memory card 32 GB: £59.49
One thing I would say is that you should probably buy a protective case for your Vita as well, seeing as it's got a touch screen on the front of the back and I think we all know how easy it is to get scratches on a touch screen. I would recommend thought that you get a case that is sturdy to provide an optimal protection for the Vita. I would list the one I've bought as I'm very happy with it, but unfortunately I couldn't find the one I bought on Amazon.co.uk, so I'll list one that is very similar to the one I bought.
It's the Snakebyte View Box Case for PlayStation Vita: £9.99.
I'll say it again though, make sure that it's a hard case if you're going to buy protection for your Vita and make sure to check the reviews before you buy something as I've made a mistake when it came to buying a protective case. Don't be afraid to spend some extra cash on a protective case as this was my mistake; I looked at the price instead of what the reviews said.
All prices are according to www.amazon.co.uk.
You May Also Like...